Easily track and share students' statuses with all your teachers
Introduction
Introducing Flags, where you can label, identify, and take specific actions to ensure student success in your CritterCoin PBIS system! Teachers can manually flag students or schools can use our cutting-edge AI to automatically identify and flag students. Flags can help catch behavioral issues before they escalate. Let's take a look!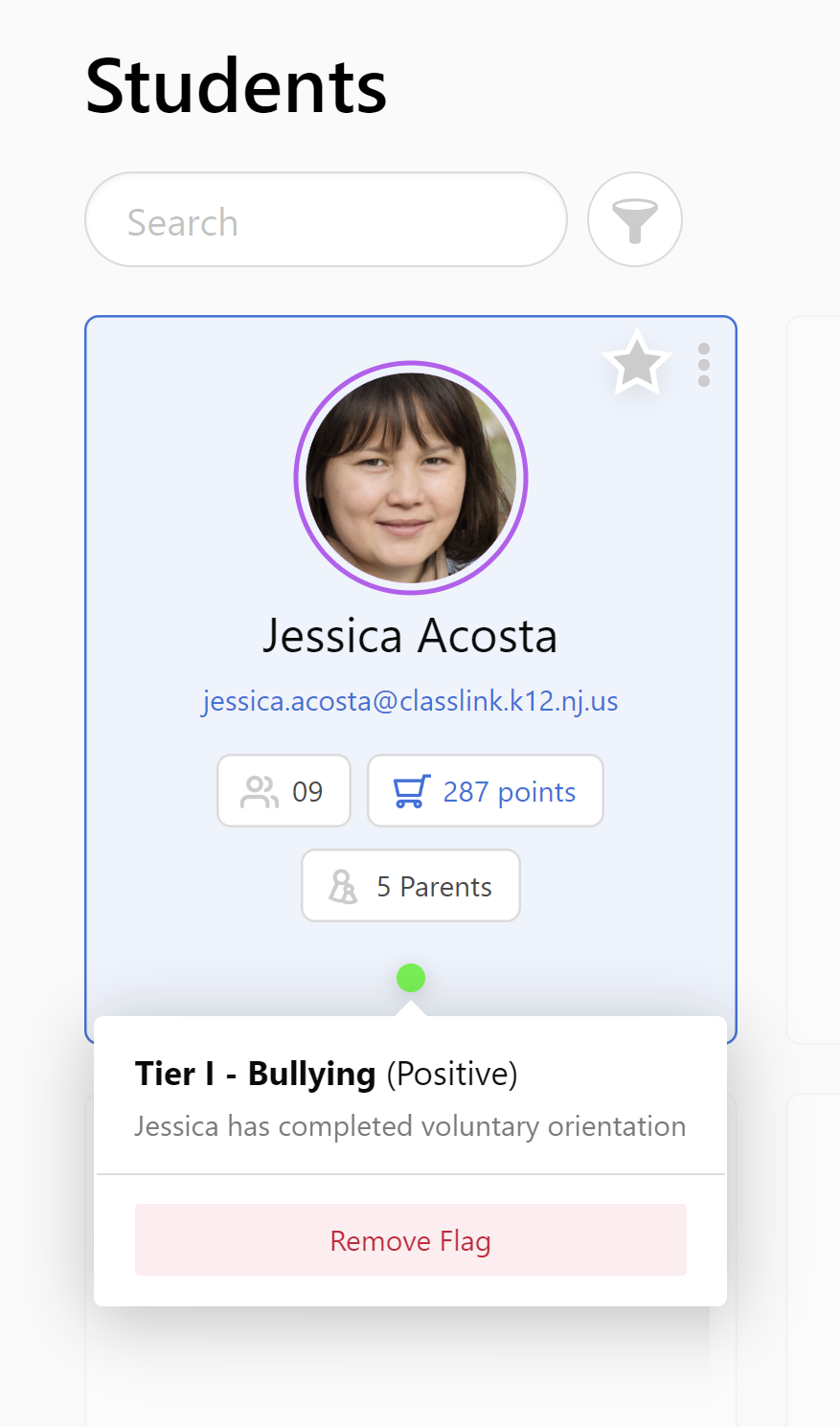 Flags Overview
Flags are a quick way to label students visually that is super easy to use. Your school's CritterCoin admin can easily customize the label's name, color, and description of what the flag is used for. Students can have flags based on… just about anything, but here are a couple of examples to view!
Red Flags for Tier 3 Students
Green Flags for Tier 2 Students
Purple Flags for "Mastery "Level Students
Orange Flags for students that need to speak to a counselor.
Did I also mention that using flags is FREEEEEE 🤑
All teachers can see flags, but they are never visible to other students or parents. This becomes useful when your PBIS team needs to easily support students at any time. When viewing your students in CritterCoin, you can even filter students by flag. This comes in handy when it comes time to give intervention to a specific group of students that range from tier 3 students receiving group counseling to viewing who turned in their permission slips. Teachers need the flexibility of use, and we are here to support you!
Best Practices for Flags with CritterCoin
Flags are created and configured by your CritterCoin admin. Configuration options include…
Choosing if the flag indicates a positive or negative thing.
Adding a description of what the flag means.
Choosing a color to help easily identify the flag.
Another great way to automate flagging and unflagging students for PBIS is with Quests. Quests are here to solve real-world problems by providing supported interventions with cutting-edge AI to promote positive campus culture.
Incorporating the Flag Node into your Quest can automatically flag a student for you based on other nodes. Suppose you give a Journal Entry during a Quest,and a student answers with signs of depression. In that case, the AI and the flag node work together to flag a student based on their responses.
One of the great things about flags is that they are flexible to handle many teacher and student needs. You can use flags as a way to identify students who have:
Turned in a permission slip
Have an approved photo-release
Who has lunch bunch with the principal
The list can go on!
Flags are a Win, Win 🥇
Using flags will free up more teaching time by swiftly addressing behavioral concerns. This translates to a focused, engaged classroom where students can thrive behaviorally and academically. Create a supportive educational journey that empowers both educators and students. Invest in PBIS screening to pave the way for student excellence.