Make Rewarding Fun with These Ideas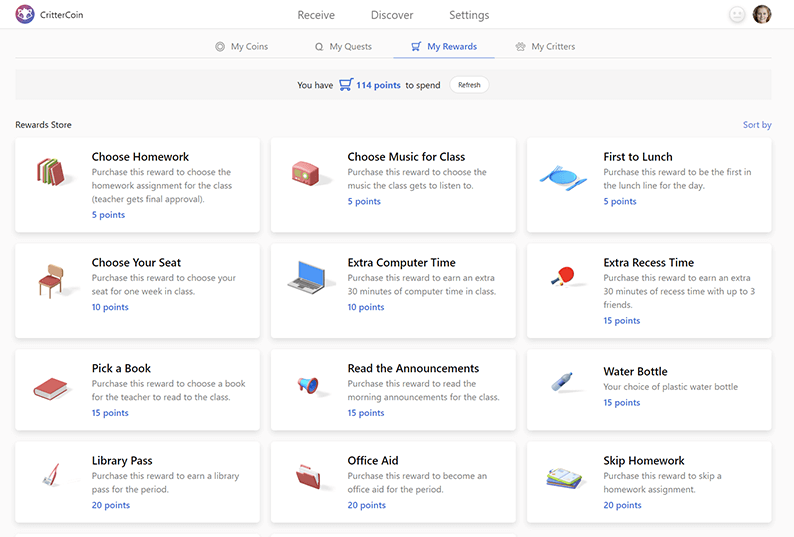 If your school is managing a reward store and point system manually you know how much work it can be. CritterCoin gives schools a totally free Rewards Store and way to issue points that can digitize everything, saving your teachers time and your school funds!
One of the great features of CritterCoin is the ability to customize rewards in the School-wide Rewards Store. Here are some creative ideas to inspire your students:
Free Homework Pass: This reward is always popular with students. It gives them a break from homework and lets them enjoy their free time.
Extra Recess Time: Students love to spend time outside, so this reward is sure to be a hit.
Game Day: A day dedicated to playing games in class or during recess. Students can bring their favorite board games, card games or video games to school and play together.
Dress-Up Day: Let students dress up in costumes or wear their favorite non-uniform clothes for a day. It's a fun way to let them express their individuality.
Lunch with the Teacher: A special one-on-one lunch with the teacher in the classroom or in the cafeteria.
Extra Computer Time: Students love using technology, so extra tech time can be a great reward. We use reward QR code vouchers to allow other students to scan to validate and approve more time in the school computer lab.
Mystery Prize: For a bit of excitement, have a mystery prize in the rewards store. Students won't know what it is until they redeem their coins for it.
These are just a few examples of the many creative ideas you can use to reward your students with CritterCoin. Remember to make it fun and engaging, and watch your students get excited about learning!